It may be frigid outside, but summer is fast approaching! Summer in the Twin Cities means a festival of some sort every weekend. Students for Design Activism is thrilled to announce participation in one of the more exciting of these summer festivals: Northern Spark!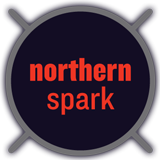 Northern Spark
 is (from their website) "
a roving, collaborative, interactive media-oriented arts agency from the Twin Cities for the world. It presents innovative art in the public sphere, both physical and virtual, focusing on artists creatively using technology, both old and new, to engender new relations between audience and artwork and more broadly between citizenry and their built environment.
"
Northern Spark is a "nuit blanche" (new-ee blonch); an all night arts festival. This year it runs from 8:58pm on June 8th until 5:00am on June 9th. It will take place in Lowertown, Saint Paul.
SDA will be constructing an interactive light and sound installation that will guide visitors to the river, illuminating how our built environment is intracately connected to the ecological flow of the Mississippi.
We'll post more updates and ways to get involved soon!